Mana Nalu
3D Mural, by John Pugh
Mana Nalu Plaza, Honolulu, HI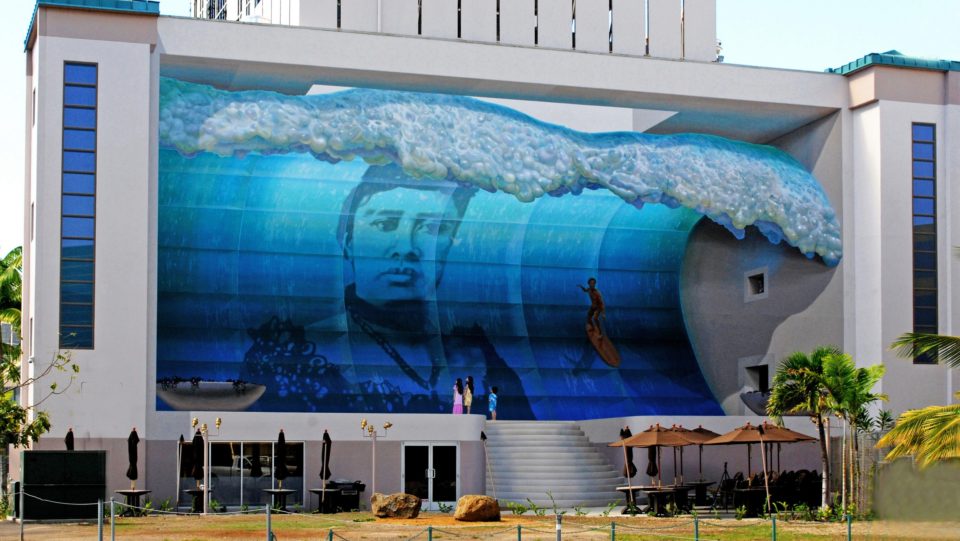 About the mural
On the balcony below are children who have come to offer gifts and to share aloha. Spiritual and virtuous, Queen Lili'uokalani made sure all future children of Hawaii would have an Ohana (a loving family). Also included in a window by her side is another great Hawaiian – Prince Kuhio – who encouraged, counseled, and supported her.
With curved blocks of aqua jeweled glass, the effect of light coming through from a skylight above is similar to the effect in a real wave. This allows the viewer to bask in 'the zone' of a surfer's world. The balcony visually integrates with the building and is ornamented with lush elegant urns and , and a grand staircase that issues forth like sea foam.
This mural was made possible through an international competition and by the vision of building owner Richard Wasnich M.D. His vision will continue on with a park that integrates with the mural, intending to create a meditative sacred space. Also, mahalo to Kauila Clark for his council and the guided journey through the rich culture and spirit of Hawaii.
Commissioned by // Honolulu Arts Commission
Site // Mana Nalu Plaza
Address // 401 Kamakee St, Honolulu, HI 96814
Year // 2008
Other views