John Pugh
Trompe L'oeil Artist. American Muralist. Optical Illusion Painter.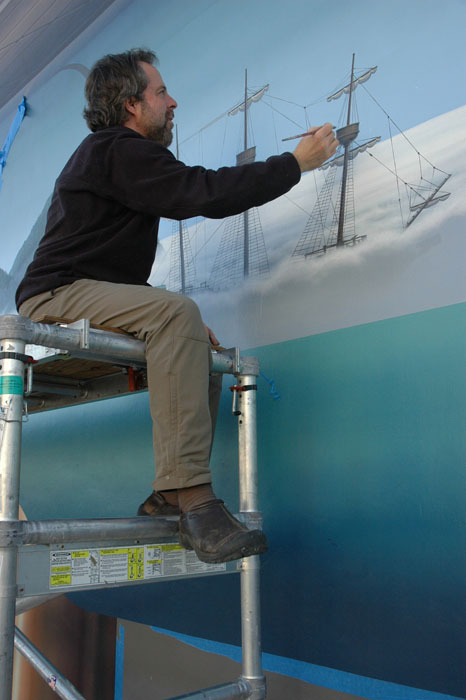 About John
"For more than three decades, world-renowned trompe l'oeil artist John Pugh has engaged and captivated the public with large-scale mural projects in spaces across the world, including San Francisco, Miami, and New York, as well as Taiwan, Mexico, and New Zealand. His "trick of the eye" murals cleverly fool the viewer into seeing a modern facade's broken wall revealing Greek columns or a woman reading in a cafe. But Pugh's paintings also capture the imagination and engage the mind. Within a framework of artfully rendered illusionary space, he orchestrates layers of historical, social, and mythical commentary that challenge the viewer to find deeper levels of meaning.
With a body of work now exceeding 200 murals, Pugh has been instrumental in revitalizing the trompe l'oeil genre, turning it into a legitimate and vital mode of artistic expression that is both aesthetically and intellectually challenging. In Pugh's own words, 'It can link people together, stimulate a sense of pride within the community, and introduce the viewer to new ideas and perspectives.'"
-Kevin Bruce, Author of The Murals of John Pugh: Beyond Trompe L'oeil, 2006
Artist Statement
I have found that the visual "language" of trompe l'oeil allows me to communicate effectively with a large audience. People take delight in being visually tricked. Once intrigued by the illusion, it invites a viewer to visually cross into the mural – to discover and explore a profound concept.
With a clear intention to create public art attractions, I strive to design each project to avoid becoming a commonplace mural. Often, this illusion includes creating an iconic, dynamic anomaly. The passerby is much more apt to engage with an uncommon architectural event while they unconsciously survey the urban landscape.
As an artist, I must create a "sense of place." I research the area and its community, formulating concepts based on historical, environmental, and cultural viewpoints. If the mural can serve to educate about the culture and heritage of a place, it will deepen roots and create a pride of place.
Ultimately, the goal of any mural is to conjure fresh feelings and perceptions, evoking a sense of connectivity with the mural, within us, and with the world around us.

Studio
My studio is where the Siskiyou Mountains and the Cascades collide, near Crater Lake and Mount Ashland, Oregon. I'm engrossed in beauty in the home of world-famous Shakespeare productions. My studio is a haven for friends, apprentices, and master painters alike. Pot lucks and informal round table discussions have helped create a community center for artists. Patrons and clients are encouraged to come by, discuss ideas, and see projects in progress.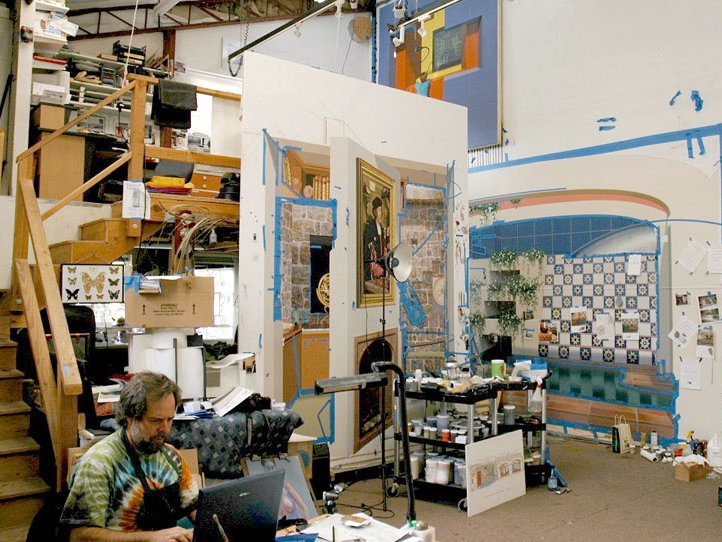 Commission a Mural
Are you interested in working together? Do you have questions about commissioning artwork? Let's connect!
Public Spaces
Public art commissions for outdoor spaces, shopping and financial districts, historic buildings, parks and recreation facilities and redevelopment zones.
Commercial Buildings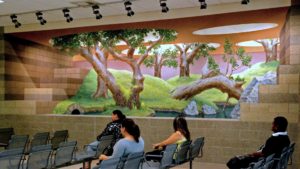 Interior and exterior murals for private and government organizations, Universities,
hospitals, museums, corporate headquarters, public transportation buildings, parking garages, and more.
Private Residences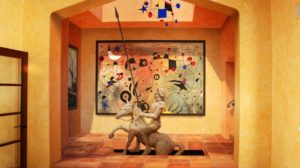 Private commissions for trompe l'oeil enthusiasts, art collectors, and anyone else who shares my love for tricking the eye.