Valentine's Day
3D Mural, by John Pugh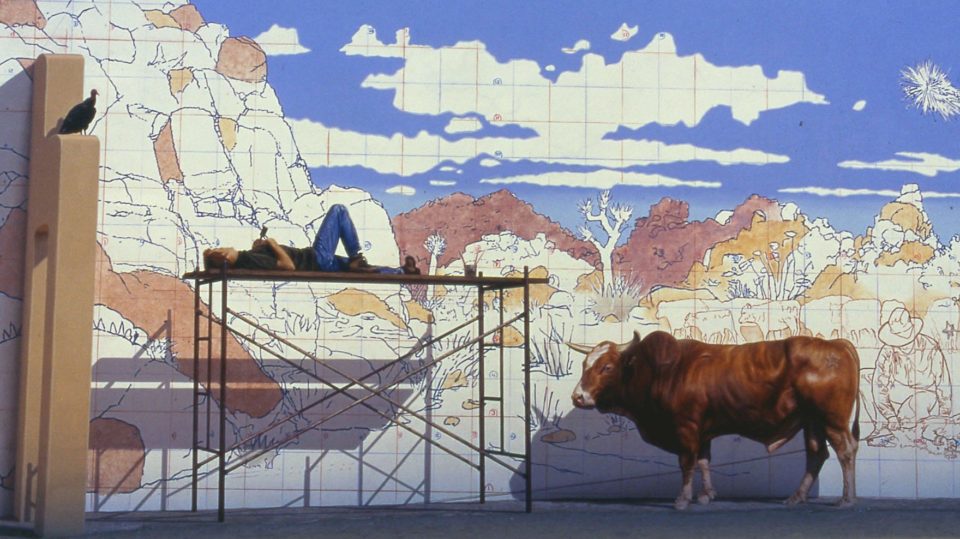 About the mural
History lessons on the wall, which has been Twentynine Palm's theme for murals, here talks about the cattle rustling in Hidden Valley of Joshua Tree National Park. There, the McHaney gang re-branded the cattle for resale as depicted in the sketched narrative of the mural. The commentary John made about additional mural concepts are as follows:
The historical theme in 'Cattle Days in Hidden Valley' is not the only subject of this mural. The goal of the artist is to present some additional ideas for you, the viewer, to consider. Another story being told here is about what happened to an artist while he was sleeping on the job and yet a third is about the mural process itself.
Manifested from the artist dreaming about Cattle Days, a rodeo bull named Valentine is metamorphosed into 3-D reality next to the scaffolding. Named for the white heart shape on his head, Valentine also bears the McHaney gang brand, as if he traveled out here from the historical scene in the mural. Eagerly waiting for the artist to awake — along with a patient buzzard perched on the arch — Valentine will soon have his day.
Commissioned by // Global Mural Conference Project
Site // Twentynine Palms, CA
Address // 6308 Adobe Rd, Twentynine Palms, CA 92277
Year // 2001
Other views