River of Mercy
3D Mural, by John Pugh
Mainplace Stadium Cinema, Merced, CA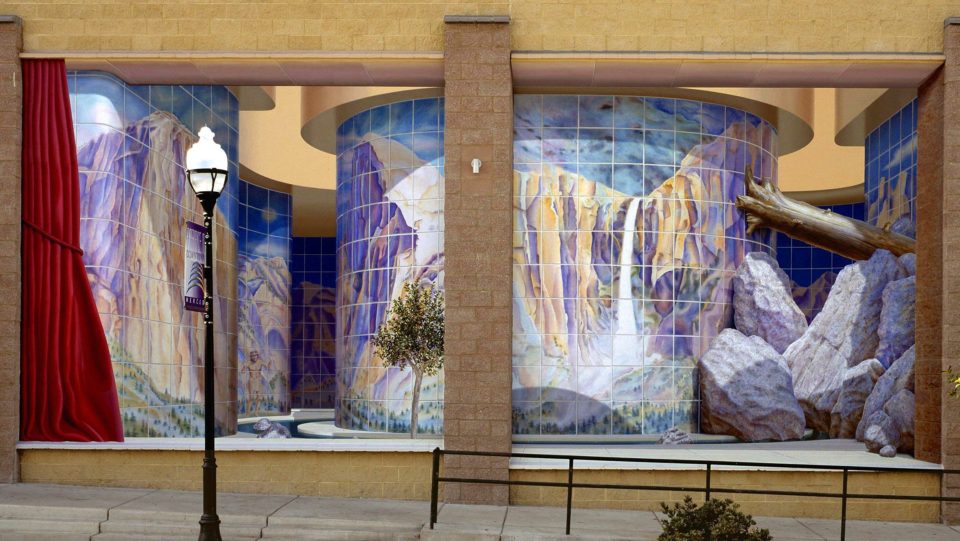 About the mural
The river is the lifeblood of Merced — and of this concept. It is the story as well as the storyteller. As the 'river runs through,' it flows from Yosemite Valley past the foothills and through an old mill until it reaches thirsty orchards and crops of the Central Valley.
While chronicling geological passages, it also ushers in the rich and colorful history of Merced County. Named by grateful conquistadors, El Rio de la Mercedes has given life for thousands of years. The River of Mercy meanders past the Miwok, Spanish, Asian, African-American and European. It has flowed from the beginning of history, through centuries of hunters and gatherers, to the trappers, gold seekers, ranchers and farmers. It's seen harmony and destruction from irrigation to devastating hydraulic mining. It has given drink to the people and to the land. It is why Merced is here.
The landscape scenes in this mural – like Yosemite's cliffs and falls or the sun/field harvest — appears in a more expressive art form via the illusionary tile murals or mosaics. Merced's rich ethnic diversity — from Hispanic and Hmong to European and African-American — is represented by the proud field workers in the 'Sun Mosaic.' The Yosemite tile mural also includes a scene (not developed in sketch) of a Miwok youth by the river.
Commissioned by // Merced Redevelopment Agency
Site // Mainplace Stadium Cinema
Address // 403 W Main St, Merced, CA 95340
Year // 2003
Other views