Path Around Son
3D Mural, by John Pugh
El Camino Hospital, Mountain View, CA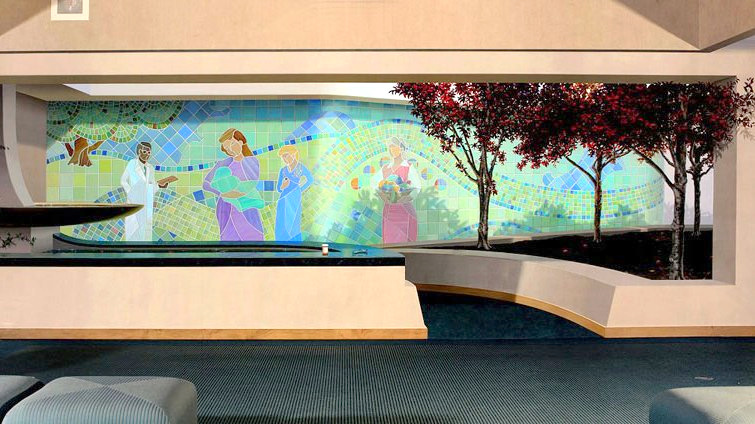 About the mural
Path Around Son is a piece about cycles and healing. An illusionary path leads the viewer into and around a room containing a fountain, a mosaic and the cross-section of an orchard. The background "mosaic" depicts the symbolic cycle of health care that a newborn baby boy and his mother receives. Paramount to good medicine, images of a doctor, nurse and a volunteer are Included.
Another cycle is the cycle of seasons. An obvious homonym for Path Around Son is Path around Sun, as in the Earth's yearly orbit. The annual cycle of seasons is symbolized here by the different phases of the plants and trees. Reading the mural left to right, tells a story of Spring to Fall.
I believe there's a healing process and sense of spirituality that comes when meditating on the change of seasons. Embracing the full cycle brings fourth a peaceful dance-like movement. The Bougainvillea petals and fallen red leaves float colorfully together in the sparkling water. What a lovely elixir of life the fountains hold.
Commissioned by // El Camino Hospital
Site // El Camino Hospital, Mountain View, CA
Address // 2500 Grant Rd, Mountain View, CA 94040
Year // 2002
Other views