Bay In A Bottle
3D Mural, by John Pugh
Shopper's Corner, Santa Cruz, CA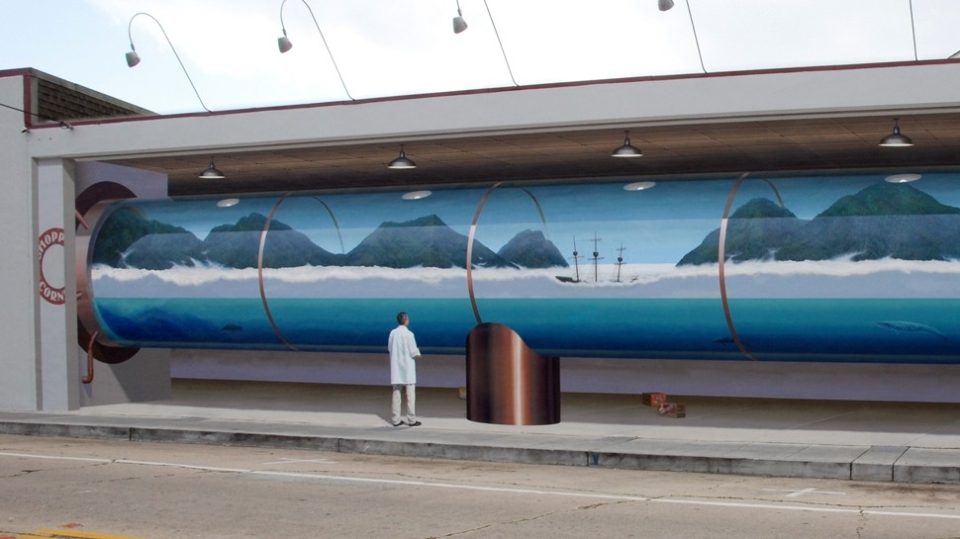 About the mural
UC Santa Cruz is often referred to as the "school of organic consciousnesses". This liberal beach city of Santa Cruz also seems to emulate that school of thought, striving to preserve its land and marine environment.
Here, as a metaphor to this idealism, we have put the Monterey Bay and the coastline into a giant Jules Verne-like time tube. Galleon masts rise above the fog while marine life – such as Humpback Whales and many species of fish – swims happily below. Old growth redwoods flourish, yet uncut and milled. The ship's captain, Sebastian Vizcaino, is the first known European to lay eyes upon this virgin blue bay. This ship's maiden exploration of Northern California's coastline timestamps the unfettered ecology.
Like finding Brigadoon, we viewers are here on a hundredth-year day that a cryptic door, that usually looks like a normal wall, happens to be open. As a covert operation, the age-old laboratory is revealed (this inner sanctum is somewhere in back of the food storeroom). A lone scientist takes maintenance readings. On the cryptic door/walls, now separated by over 80 feet, an old painted store sign is split in two.
When the wall doors close shut at the end of this special day, and the sign halves meet (making the very old circular advertisement become whole), the time-archiving operation once again becomes hidden, like it was a dream, silently continuing to preserve the past unrevealed. Yet with passion, Santa Cruz seems to hold on to this dream.
Commissioned by // Santa Cruz Redevelopment Agency
Site // Shopper's Corner
Address // 622 Soquel Ave, Santa Cruz, CA 95062
Year // 2009
Other views